The GQ miniature power relay from GOODSKY offers a 5A and 10A rating for ambient temperatures up to 105°C. The very small housing gives a space consumption on the PC Board of only 180mm².
The relay is UL and VDE listed and provides also a TV5 rating. AgSnO + Indium contacts secure excellent performance in case of inrush currents. The coil consumption is only 200mW with nominal voltages starting from 3VDC up to 60VDC. The minimum creepage distance is 8mm and the minimum clearance distances 5.5mm.
With a solid insulation of 2mm and the possibility of a version for glow wire test this relay allows a very universal use in a multiple of applications and industries.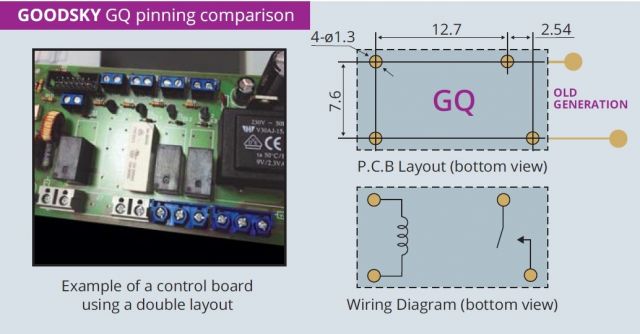 GQ Features:
1 NO contact, AgSnO + Indium contact material
5A standard version
High performance version with 10A/277VAC respectively 10A/30VDC contact rating and TV5 inrush listing allows to handle strong inrush peaks
Class F coil system
Coil voltage from 3Vdc to 60Vdc with 200mW coil sensitivity
Reinforced insulation acc. to IEC 60335-1
Ambient temperature up to 105°C
Version that meets IEC 60335-1 glow wire test at end product optional
Halogen free series available also in combination with glow wire feature
Compact dimensions of only 18.2×10.0×14.9mm (L×W×H)
VDE, cULus, TÜV
NEW: Reflow soldering version on request
New VDE listing of 12A/277VAC at 105°C for 100,000 operations and 16A/125VAC cos phi 0,75 at 85°C for 50,000 operations.
Applications:
Heating controls: mixer, burner control, control of high efficiency pump
Building management: blind controls
Time delay & control relays
Measuring & testing equipment
Light controls
The relay is produced on a fully automated production line. As a special feature the relay is fully automated adjusted. This production module is a unique technology developed by the GOODSKY engineering team and provides a very homogeneous electrical performance of the GQ.
With above features the GQ would be able to replace old generation products if a NO contact is sufficient. In a first step this can be realized with a double layout. In a second step a redesign of the board can save 35% of board space. Our picture show this technology advantage.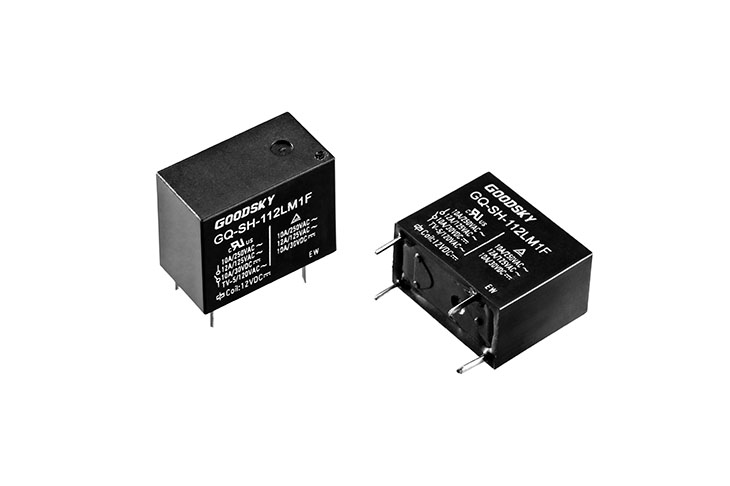 Cited from https://www.codico.com/en/Services/Impulse.htm
Author, Michael Blaha, Product Marketing Relays & Switches, CODICO GmbH